Ohashi
Transport

Corporate Philosophy
We contribute to the customers and
the local community through our business.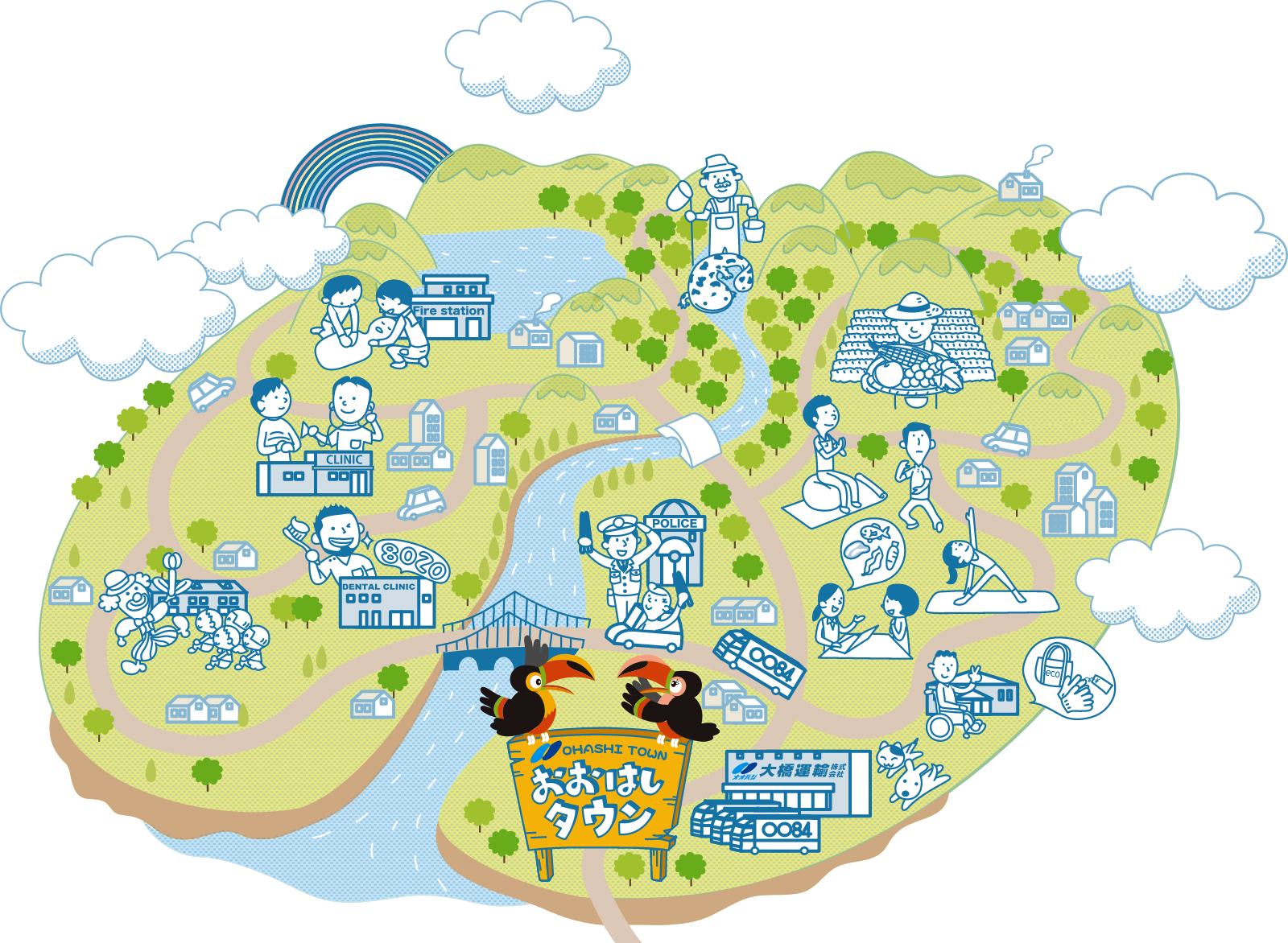 Human Resources Philosophy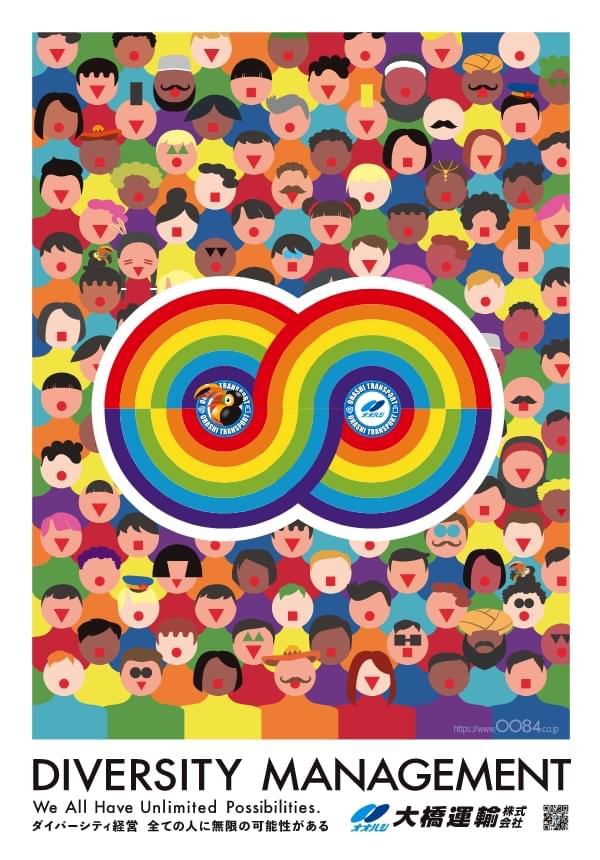 We nurture our employees as an asset and reserve our human resources who provide the added value.
The personal growth of our employees is foremost in our minds. Thus, we will continue to enable those employees who wish to excel at work, and to accomplish their own dreams. 

For the purpose of servicing the customers, as well as for the potential contributions to society at large, we will reserve a large number of employees who are deployable as human resources.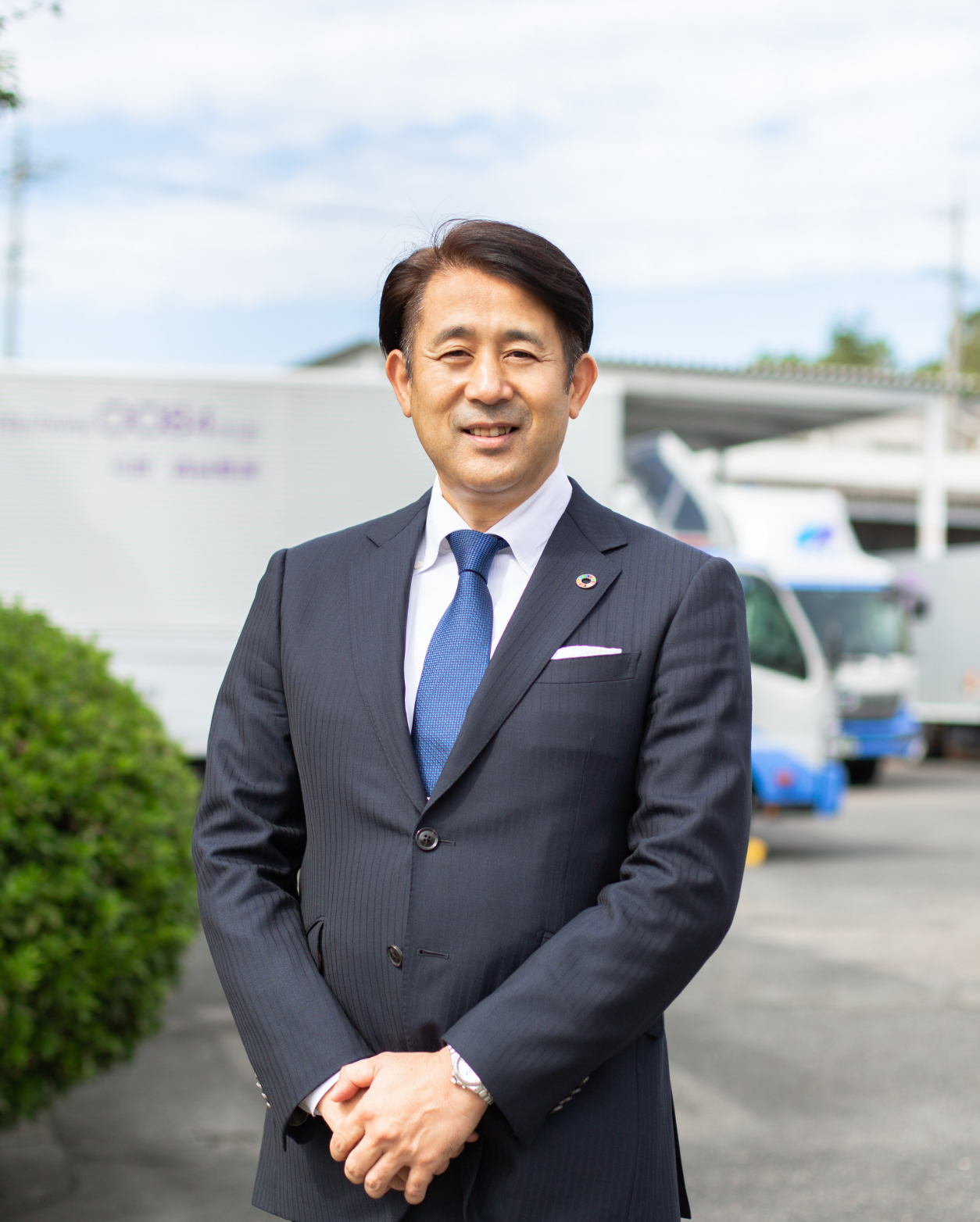 Message
CEO Nabeshima Hiroyuki
Thank you for visiting our website.
Ohashi Transport was established in March, 1954. We have been supported by the customers and the community for more than 60 years.

The fact that the added value is created by the employees has not changed even if the load has changed with the times. And, we improve the working environment in order to reserve our human resources who can provide added value as an asset.

In addition, many local problems are increasing due to the depopulation and the super aged society in Japan. And, there are a lot of environmental issues such as global warming. We aim to be the company which could contribute the customers and the local community to solve the local issues and to protect the environment.

99.7% of companies in Japan are small or medium-sized companies, as we are. We believe that these companies give a good impact to society to take in "CSV".
Our Activities
Diversity and Inclusion

Ohashi visions are based on social goodness to many people. Company motivates diversity management; women, foreigner, disability, and LGBTQ and these people. Working together and making power offer strong competitive advantage for company.

Local management /
Creating Shared Value(CSV)

Towards the company which can be trusted by local company and people, we wrestle various of society activities with local people and contribute to solve local community problem through our business.

Health and Productivity
Management

Not only raising each person's vitality and productivity, but also activating communication by working on mental and physical health maintenance.

SDGs
(Sustainable Development Goals)

I think that it leads to the sustainable growth of the company to realize sustainable society, and work on a contribution to society activity and reduction, environmental conservation of the environmental load.
Company Profile
Company name
Ohashi Transportation Co., Ltd
Representative
Hiroyuki Nabeshima
Address
2-260 Nishimatsuyama-cho, Seto City,
Date founded
March 17, 1954
Capital
Thirty million yen
The number of employees
109
Business facilities
34,650㎡
Business contents
General Motor Truck Transportation Business
Motor Truck Transportation Business
Oils and Fats stocking sale
Collection and Transportation of municipal solid waste
The industrial waste collection transportation work
Moving service
Distribution information service
General Worker Dispatching Undertakings
Real estate lease business
Banker
Aichi Bank
Ogaki Kyoritsu Bank
The Juroku Bank
Shoko Chukin Bank
Seto Shinkin Bank
MUFG Bank
Member group
Association of Aichi truck
Seto truck business cooperative association
Seto Chamber of Commerce and Industry
Association of Dispositions Mement
Seto-shi company ambassador authorized company
Seto-shi environment partnership company meeting
Possession vehicle
26 large cars
33 medium-sized cars
5 compact cars
5 forklifts
History
1954.3
Permission for General Motor Truck Transportation Business
Ohashi transportation establishes (capital 1.5 million yen)
1957.12
Increasing to capital 3 million yen
Permission for the general motor truck transportation business
1962.4
Permission for General Section Cargo Automobile Transport Business License
1998.11
Hiroyuki Nabeshima takes office as a president
2003.4
General Worker Dispatching Undertakings adds for business
2005.5
Move headquarter (new address, 2-260, Nishimatsuyamacho, Seto-shi)
2005.8
Rental container business starts
2006.4
We receive the approval of the management innovation plan based on "the Act for the Promotion of New Business Activities by Small and Medium-Size Enterprises." (18 law commercial distribution No. 136) Starts ES(Employee Satisfaction) activity
2006.5
Starts recycling business
2006.10
Starts junior high student "workplace on-site training" acceptance
2008.2
The Toyota Office authorization
2008.8
The Komaki Office authorization
2009.7
Starts recycling product export trade
2011.8
Begin "a road safety bridge [chopsticks] handing over activity" with Seto police station
2012.6
Starts cleaning river activity in Seto
2012.9
Start the promotion activity of the 8020 campaign
2013.3
Tokyo Chamber of Commerce and Industry sponsorship "eco official approval Award 2012" Eco unit section "grand prix" receiving a prize
2014.2
The Sasabara, Toyota Office authorization
2015.10
Permission for the general waste disposal standards prescribed in the Waste Disposal Act.(limited moving, ihin seiri)
2016.11
Adoption CSR reports ISO26000 as a standard of the CSR activity and issues it
2017.2
Cooperate with a local kindergarten, nursery school, schoolchild nursery school and start an event on "the day of the smile"
2017.3
Chosen by 100 selections of new diversity management companies
2019.2
The Aichi service Prize received
2020.10
Regional Future Leading Company, chosen by the Ministry of Economy
2021.3
New diversity management company 100 selections prime, chosen by the Ministry of Economy
Our characters
Our characters "Lucky" and "Happy" are modeled after the toucans, whose name is "Ohashi" in Japanese.

Toucans live in South Africa, and fruits are their staple food. Their big and beautiful beaks are very unique and they are very popular and loved by a lot of people in zoo.
In addition, another feature is the way of parental care. The male and the female take it in together.

Like "Ohashi" birds, we take in works with curiosity and cooperate with coworkers, and seek to be loved by customer and the local community.